(Under construction thread)
This is the basic guide and rule for creating Shellmo.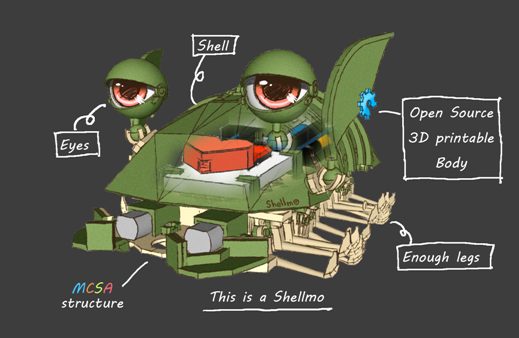 What is Shellmo ?
Shellmo is a platform for creating robot.
Purpose
Enjoying and learning making robot. Especially for hobby and education.

Definition of Shellmo
1.MCSA module structure
This is the most important for Shellmo as Shellmo.
----------------------
2.3D printable body
3.Open Source
4.Can move without wheel
5.Eye
6.Heart
Modules
The structure of Shellmo is "MCSA". Motor, Core, Shell and Accessories.
Purpose of each modules
Motor
For moving.
Core
For controlling other modules and for connecting with Motor and Core.
Shell
Cover of circuits and it's work as "face" of Shellmo.
Accessory
This is not a module. It's an additional parts of each modules. Like Eyes, Ears and Heart.
From user vision

Motor for enjoying mechanism.
Core for enjoying circuits and programming
Shell for enjoying visual design
Accessory for making their own Shellmo with ease. Example, making original eyes is not difficult compare to make new module.
Each module's design guideline
Motor
Core
Shell
Accessory
...